Welding positioner HB-50
Welding positioner HB-50
Our Welding positioner is designed rotate round or tubular work pieces such as flanges and pipes through 360 degrees to allow a welder to stand in one position and constantly work on a level surface. This prevents worker fatigue and increases productivity since the welder does not need to constantly move around the workpiece to complete the weld. This method of work piece presentation also tends to ensure consistently high quality welds since no overhead or vertical runs are involved. Joining pipes or attaching pipe fittings such as flanges and valves is a problematic task from an execution perspective due to the 360-degree work plane. Without the use of a tool such as the welding positioner, the worker may have to constantly move around and under the workpiece to complete the joint, which is not conducive to good quality welding. To avoid frequent interruptions on welding seams, a welding positioner is a necessary and effective welding tool.
Click below video for checking the working demonstration.
Features:
- Hi- precision slew bearing structure with unlimitation rotating 360o.
- Mitsubishi / Schneider Inverter to provide stepless variable speed.
- Siemens / Schneider electical components.
- Remote box with long cables.
- Wireless remote box.
- Indication of tilting degree
- Limited switch to prevent over tilting.
- Quick power cable connector is furnished.
- CE approved.
Technical Parameters:
- Rated tilting capacity: 5Ton at full position
- Max Gravity: 300mm
- Max eccentric: 200mm
- Rotate speed: 0.1-1.0rpm
- Tilting speed: 0.35rm
- Tilt range: 0-120deg
- Rotate motor: 1.1kw
- Tilt motor: 1.5kw
- Table size: Φ2000mm
Supply Range (For each standard model):
-Main body with motors&gearbox, table, bearings, etc.
-Control cabinet with Schneider components & quick power cable connector
-Remote control box with 6m cable
- Wireless remote box
-Foot pedal
-Relative documents inc. mechanical drawings, electrical diagram, operation manual, etc.
-Spare parts: pushbuttons, lights, potentiometers.
Sold to: Germany, Denmark, Romania, New Zealand, Australia, Singapore, Indonesia, Malaysia, Argentina, Brazil, Chile, Turkey, Syria, Israel, Saudi Arabia, Vietnam, India, etc.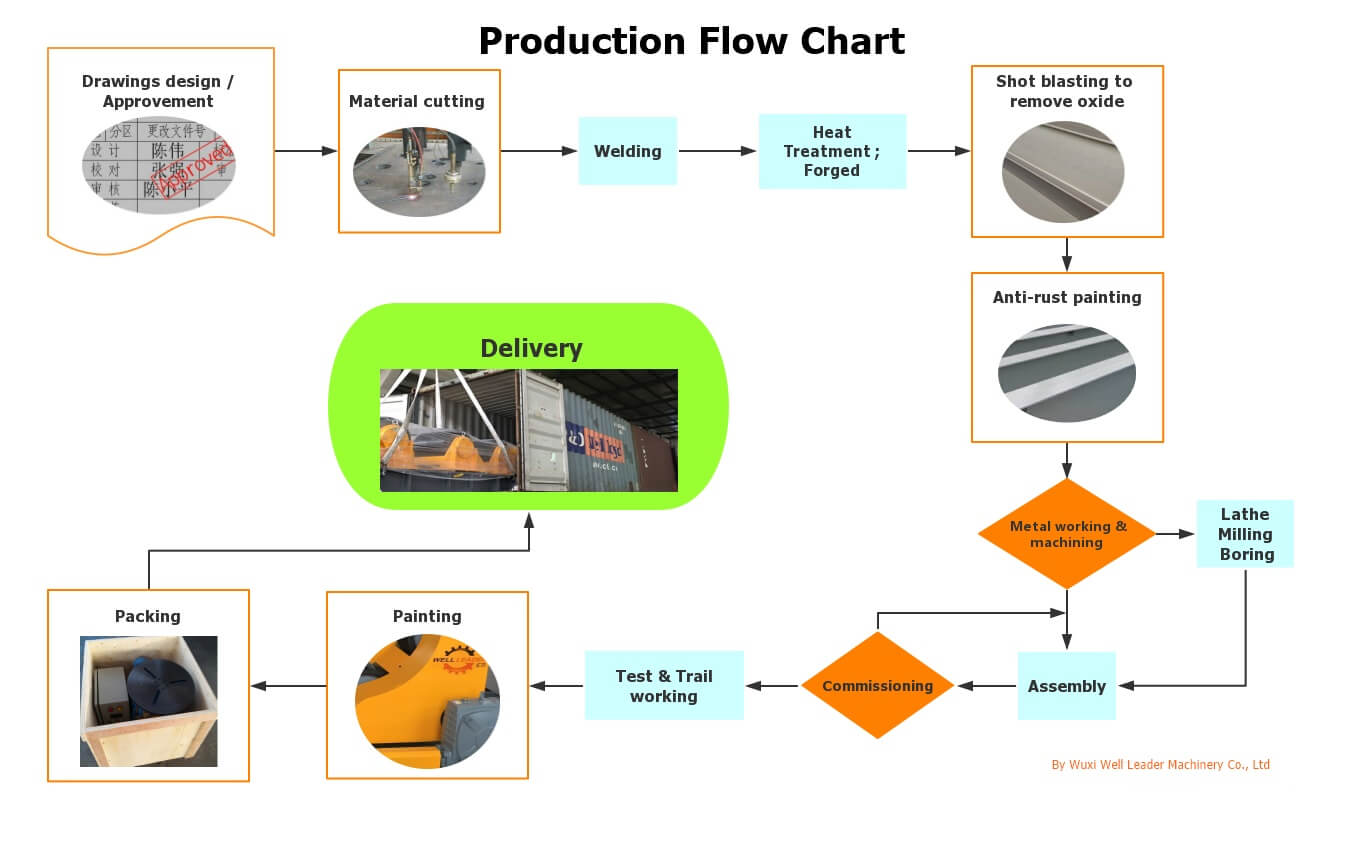 | | | | | | | | | |
| --- | --- | --- | --- | --- | --- | --- | --- | --- |
| Model | HB-03 | HB-05 | HB-08 | HB-10 | HB-20 | HB-30 | HB-50 | HB-100 |
| Rated capacity | 300kg | 500kg | 800kg | 1000kg | 2000kg | 3000kg | 5000kg | 10000kg |
| Max gravity at rated capacity | 200mm | 250mm | 300mm | 300mm | 300mm | 300mm | 300mm | 400mm |
| Max eccentric at rated capacity | 150mm | 150mm | 150mm | 150mm | 200mm | 200mm | 200mm | 200mm |
| Rotate speed(rpm) | 0.2-2 | 0.12-1.2 | 0.12-1.2 | 0.12-1.2 | 0.1-1.0 | 0.05-0.5 | 0.05-0.5 | 0.05-0.5 |
| Tilting speed(rpm) | by hands/1.3 | 0.35 | 0.35 | 0.35 | 0.35 | 0.35 | 0.2 | 0.2 |
| Tilt range | 0-90° | 0-90° | 0-90° | 0-120° | 0-120° | 0-120° | 0-120° | 0-120° |
| Rotate motor power | 0.37kw | 0.4kw | 0.4kw | 0.55kw | 0.75kw | 1.1kw | 1.5kw | 1.5kw |
| Tilt motor power | 0.37kw | 0.37kw | 0.37kw | 0.55kw | 0.75kw | 1.1kw | 1.5kw | 2.2kw |
| Table diameter | Φ600mm | Φ800mm | Φ800mm | Φ900mm | Φ1100mm | Φ1300mm | Φ1600mm | Φ2000mm |