Self Alignment Welding Rotator GZ-40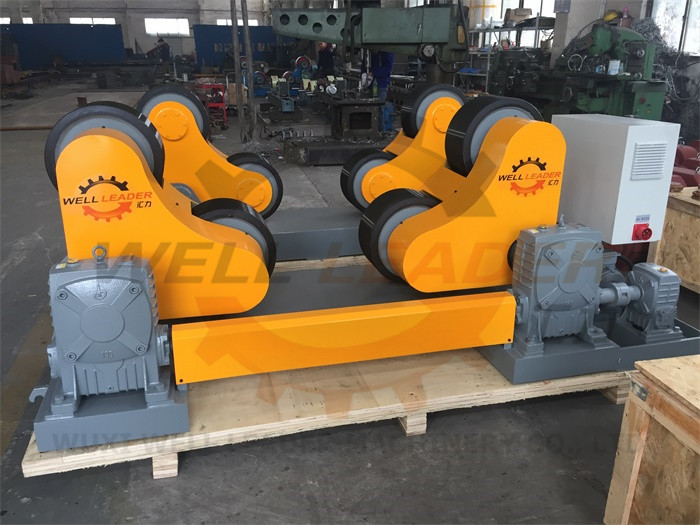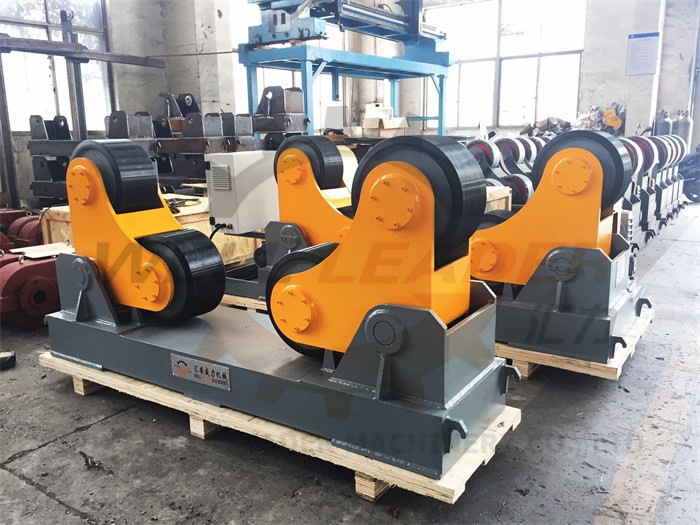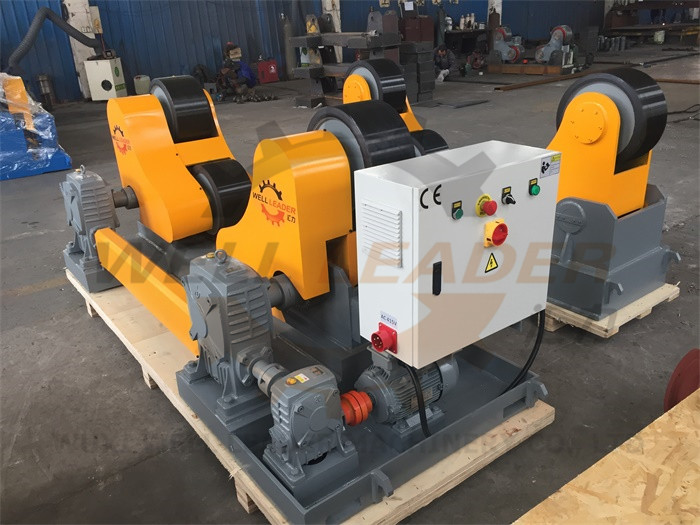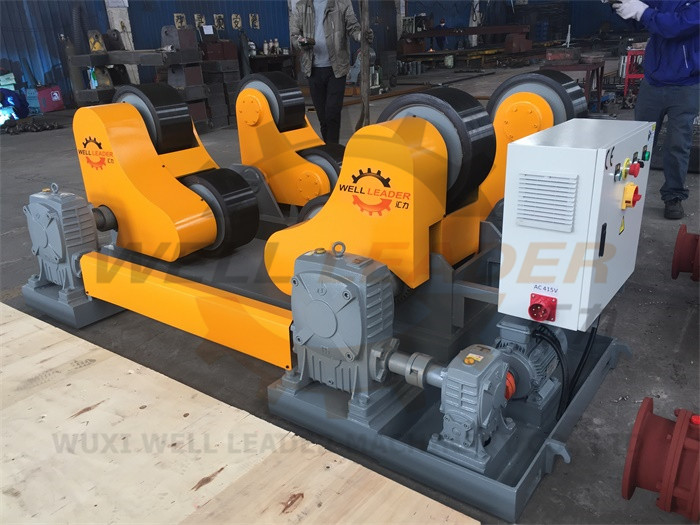 Self Alignment Welding Rotator GZ-40
Our standard GZ welding rotator is a self alignment type without adjusting rollers position, which is designed and produced to better satisfy the growing demands for the pressure vessel manufacturers both domestically and internationally. It can be applied to a wide range of diameters, and it adopts frequency conversion setting and stepless speed regulation mode which provide a smooth speed variation for welding purpose.
This rotator features stable and reliable performance, low noise, easy operation, and self suitable.
Widely Applications in:
- Chemicals & petrochemicals industry
- Boiler industry
- Storage tank fabrication
- Pipe industry
- For Welding, Painting, Blasting, Assembly etc
Click below video for checking the working demonstration.
Features:
Brand motor "Invertek"/ABB/SIEMENS & gearbox
Brand heavy duty bearings
High quality PU material
Schneider Inverter control speed variation
Schneider electrical components
Remote box with long protective cables
Wireless remote control for extreme long workpiece
Quick connector for easy starting machine
Control cabinet is water proof, dust proof & CE approved
Technical Parameters:
Turning Capacity: 40T
-Roller Diameter : Φ400mm
-Roller width: 200 mm
-Roller surface speed range: 100-1000mm / min
-Loaded Vessel/Tank diameter range: Φ600-4200mm
-Drive unit: AC frequency conversion motor and qualified gearbox.
-Wheel center adjustment (for both drive unit and Idler unit): Self Align Type.
-Remote control: Remote control pendent with 6mtrs long Cable
-Rotational speeds (variable speed AC drive): Step-less variable speeds are to be adjusted from min 100mm/min to max 1000mm/min by a potentiometer on the remote control through inverter.
-Rollers: PU
-Motor power: 3kW
-Power supply: 380V/400V/415V/440V, 50/60Hz, 3-Phase.
Supply Range (For standard model):
-01 unit power with motors & gearbox, control cabinet mounted.
-01 unit powerless idler
-01 Pendant box with 6mtrs cable
-01 Wireless remote box
-Relative documents inc. mechanical drawings, electrical diagram, operation manual, etc.
-Spares: Pushbuttons, potentiometer, relays.
Sold to: Germany, Denmark, Romania, New Zealand, Australia, Singapore, Indonesia, Malaysia, Argentina, Brazil, Chile, Turkey, Syria, Israel, Saudi Arabia, Vietnam, India, etc.
You may interest in following products:
Model

Max loading
(Kg)

Applied job dia
(mm)

Wheel dia. & width(mm)

Motor power(kw)

Speed

Rubber or PU

Metal

GZ-5

5000

Φ250-2300

Φ250*100

2*Φ244*20

0.75

Variable

GZ-10

10000

Φ320-2800

Φ300*120

2*Φ290*25

1.1

Variable

GZ-20

20000

Φ500-3500

Φ350*120

2*Φ340*30

1.5

Variable

GZ-30

30000

Φ600-4000

Φ350*120

2*Φ340*30

3

Variable

GZ-40

40000

Φ600-4200

Φ400*120

2*Φ390*40

3

Variable

GZ-50

50000

Φ700-4500

Φ400*120

2*Φ390*40

4

Variable

GZ-60

60000

Φ750-4800

Φ450*120

2*Φ440*50

4

Variable

GZ-70

70000

Φ800-4900

Φ450*120

2*Φ440*50

4

Variable

GZ-80

80000

Φ850-5000

Φ500*120

2*Φ490*60

4

Variable

GZ-90

90000

Φ900-5200

Φ500*120

2*Φ490*60

5.5

Variable

GZ-100

100000

Φ1000-5500

Φ500*120

2*Φ490*80

5.5

Variable

GZ-150

150000

Φ1100-6000

-

Φ600*280

7.5

Variable