Box H Beam Structure End Milling Machine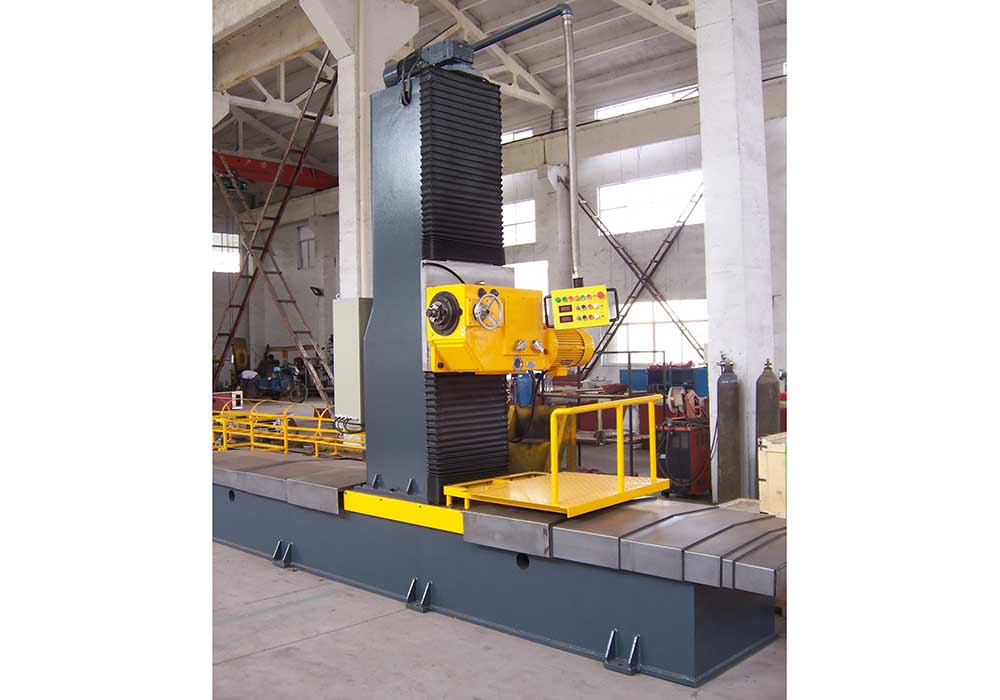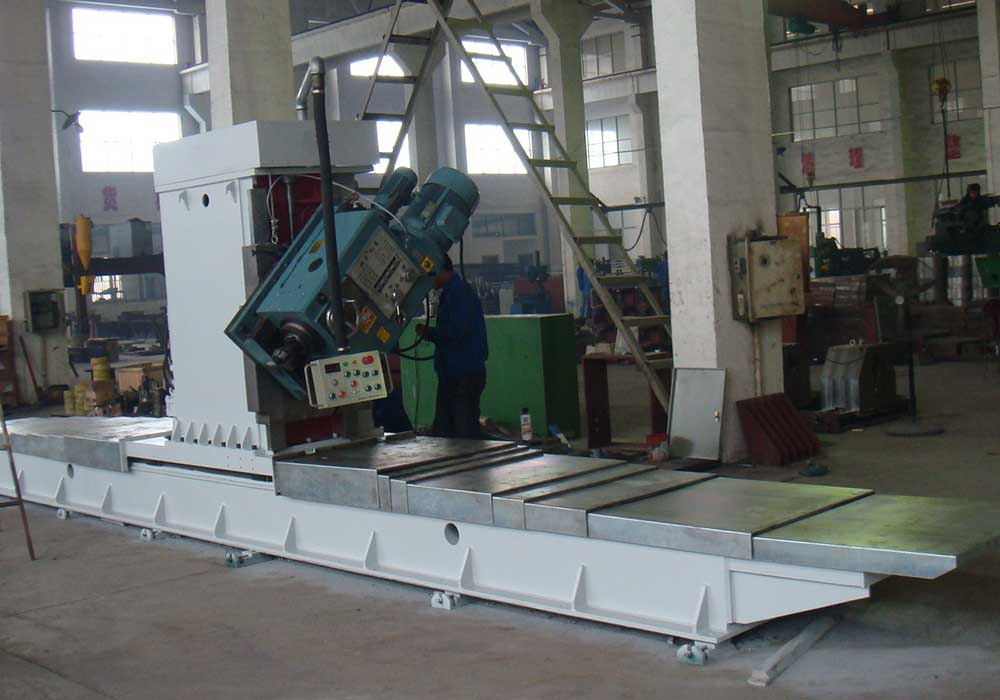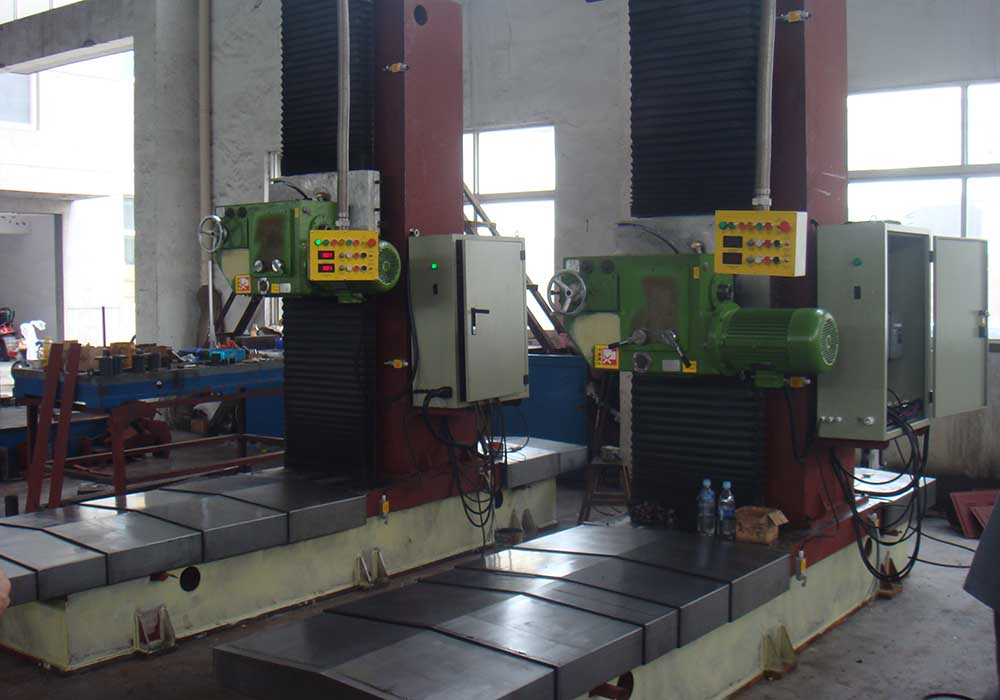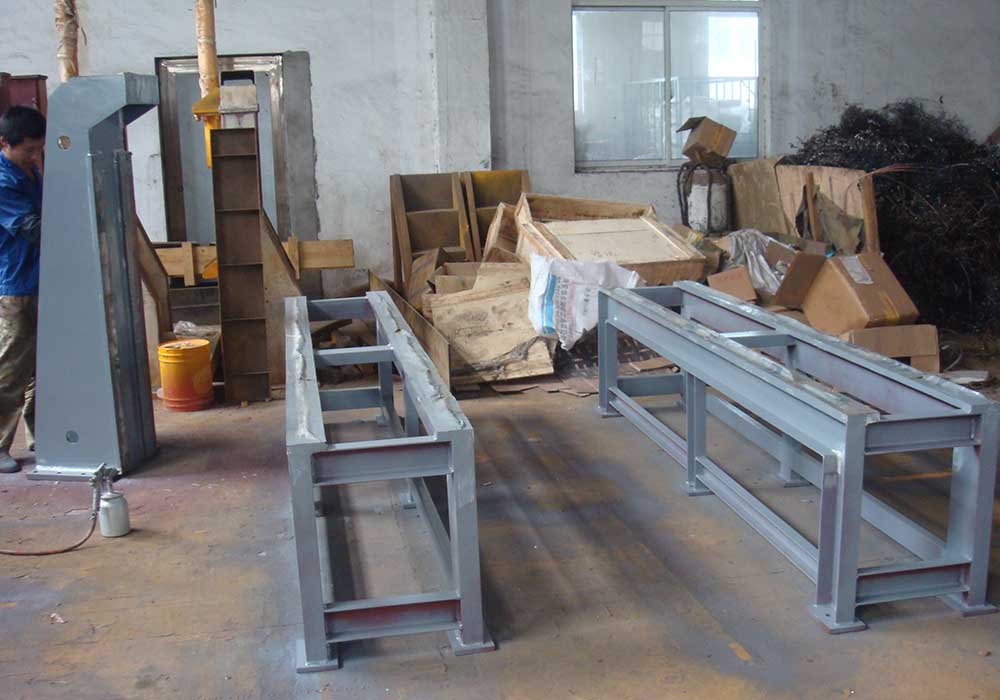 Box H Beam Structure End Milling Machine
The box end milling machine is mainly composed by milling station, elevate column, work table, main body, feeding system, electrical system, guides protector, cutter, etc.This machine is used to mill the end profile of H beam or BOX column, max job profile is 1500x1500mm, min is 300x200mm.
Technical Parameters:
Mill motor power: P=7.5KW HD750
Horizontal milling speed: 100-800mm/min VFD by inverter
Horizontal slides idle speed: 1200mm/min
Milling head vertical speed: 100-800mm/min VFD by inverter
Horizontal feeding motor power: 1.5Kw
Vertical motor power: 2.2Kw
Spindle speed of milling head: 75-420rpm, in six steps, adjust by outside hand wheel. (Note: this is an updated model to avoid opening gearbox and changing gears inside to change speed)
Milling head range: 0-45dgr
Milling cutter seat size: Φ125-250mm
Milling spindle stroke: L=100mm
Milling spindle diameter: Φ128.57mm
Milling head taper hole: NT50
Ambient temperature: –10ºC ~ 40 ºC
Relative humidity:Max. monthly average relative humidity is 90%
Electricity power:Voltage fluctuation (under rated frequency) ≤±10%
Frequency fluctuation (under rated voltage) ≤±2%
Performance:
The machine is composed of milling head, column, machine body, mechanical feeding system, control system, guard unit of rail, milling-blade, etc;
Both the horizontal and vertical rails are precise type, of great loading capacity, small clearance and good accuracy;
The milling head can travel along spindle as100mm stroke;
The machine is equipped with operating pedant, easy for operation and blade alignment;
The vertical rail is protected from dust and scrap due to designed guard cover;
For guarding unit of horizontal rail, it is a cascading style, with the advantage of good seal, no dissipation and long life. There is a peep hole on the guard cover, thru which lubricating and cleanness condition of the rail can be seen;
The machine body and column are welding structure, and integrally annealed after welding to offer stable, non-deform and good precession;
The milling head is produced by professional manufacturer, featuring in reasonable structure, reliable performance, broad speed range, good rigidity, low noise, high efficiency and easy operation. Rpm of milling head can be adjusted by manual based on diameter of milling-blade seat;
The milling head can be turned integrally within the range of 0~45º in the vertical slides, for ease of beveling. This is an our unique feature;
There is manual lubricating pump on the horizontal slides, offering good lubrication to the rail;
The milling-blade bed of the machine is a standard type, which is available on the market. The blade is made of carbide alloy steel;
Range of supply:
Column including: milling head (7.5kW), vertical slides, column body, elevating transmission mechanism, guard cover;
Horizontal slides including: work table, machine body, feeding transmission system, guard cover;
Control system including: control board, operating pedant, A.C. inverter
Tool for fitting miiling-blade including: pull rod, mandrill, 160 standart milling-blade seat, fitting tool, etc;
Operation manual (including foundation drawing, electrical diagram, hydraulic diagram)
User made part:
a. foundation(the seller provide drawings).
b. Earth (L) bolts and expansion bolts.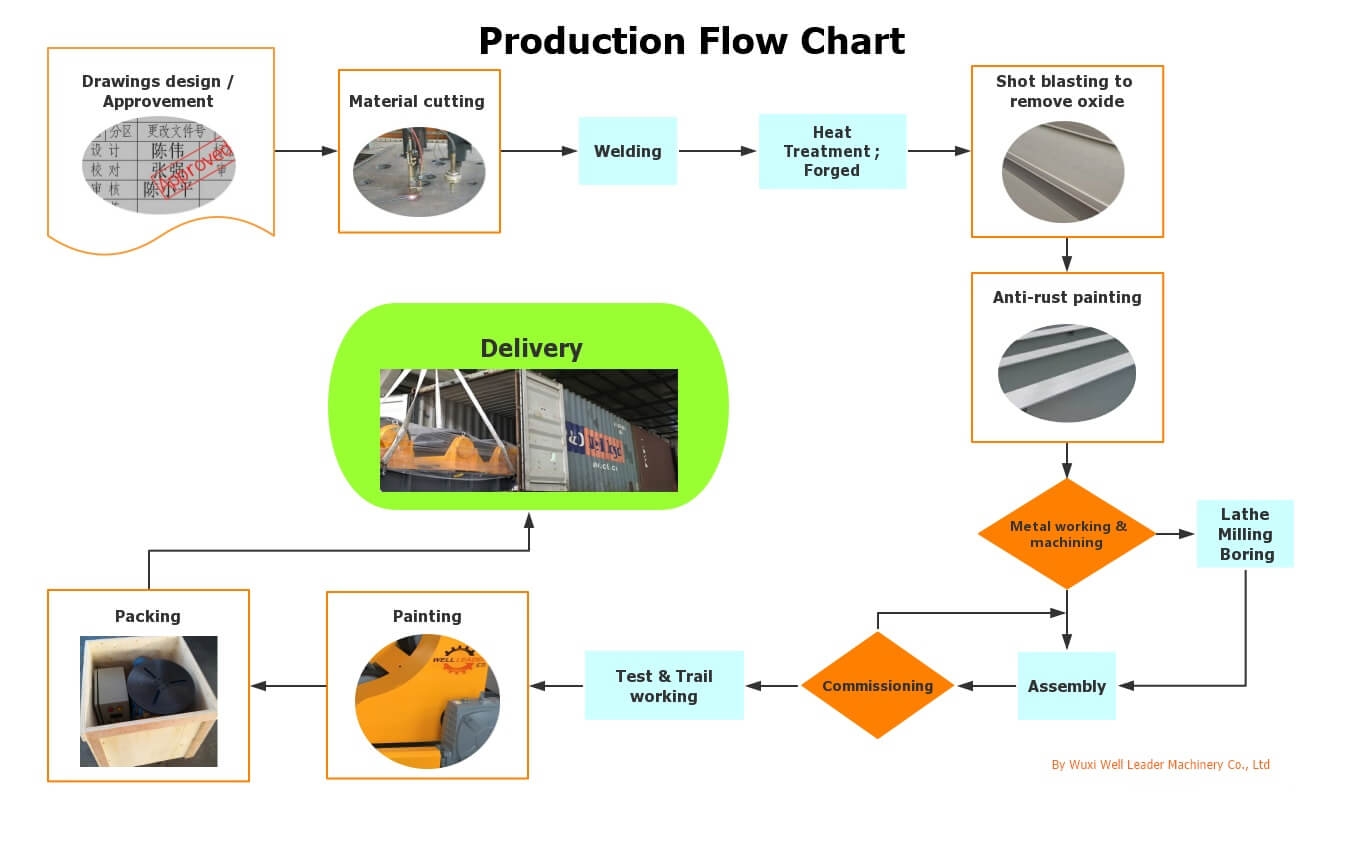 You may interest in other products:
| | | | | |
| --- | --- | --- | --- | --- |
| Model | DX1215 | DX1515 | DX1220 | DX1230 |
| Process section size | 1200x1500mm | 1500x1500mm | 1200x2000mm | 1200x3000mm |
| | 7.5kw | 7.5kw | 7.5kw | 7.5kw |
| Horizontal feed speed | 100-800mm/min VFD | 100-800mm/min VFD | 100-800mm/min VFD | 100-800mm/min VFD |
| Milling head vertical speed | 100-800mm/min VFD | 100-800mm/min VFD | 100-800mm/min VFD | 100-800mm/min VFD |
| Spindle speed of milling head | 75-420rpm, in six steps | 75-420rpm, in six steps | 75-420rpm, in six steps | 75-420rpm, in six steps |
| Milling head range | 0-45° | 0-45° | 0-45° | 0-45° |