Pole Welding Solution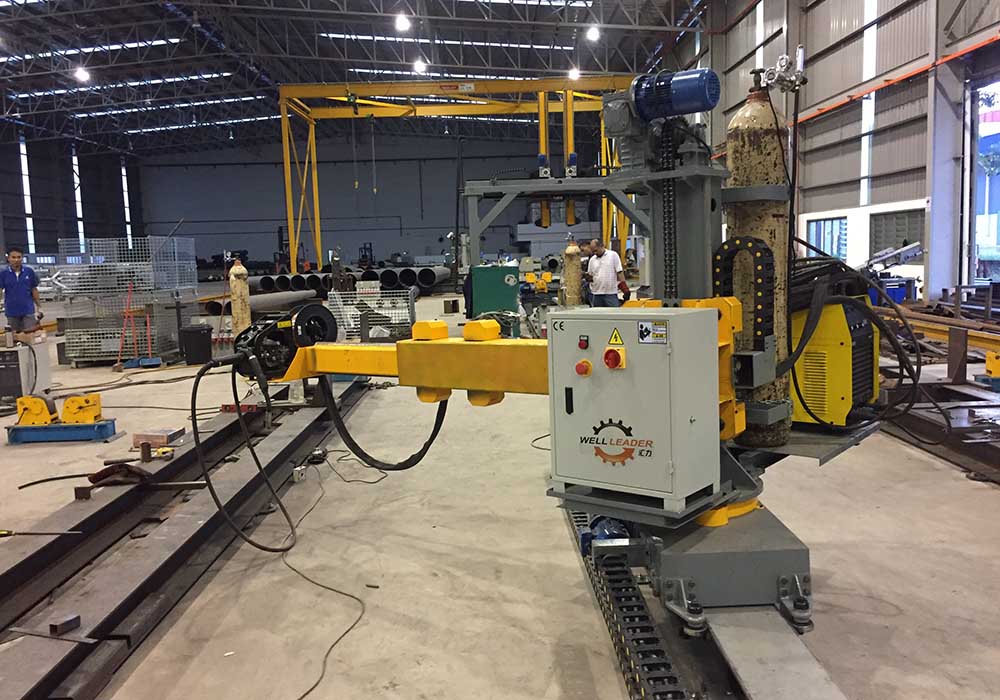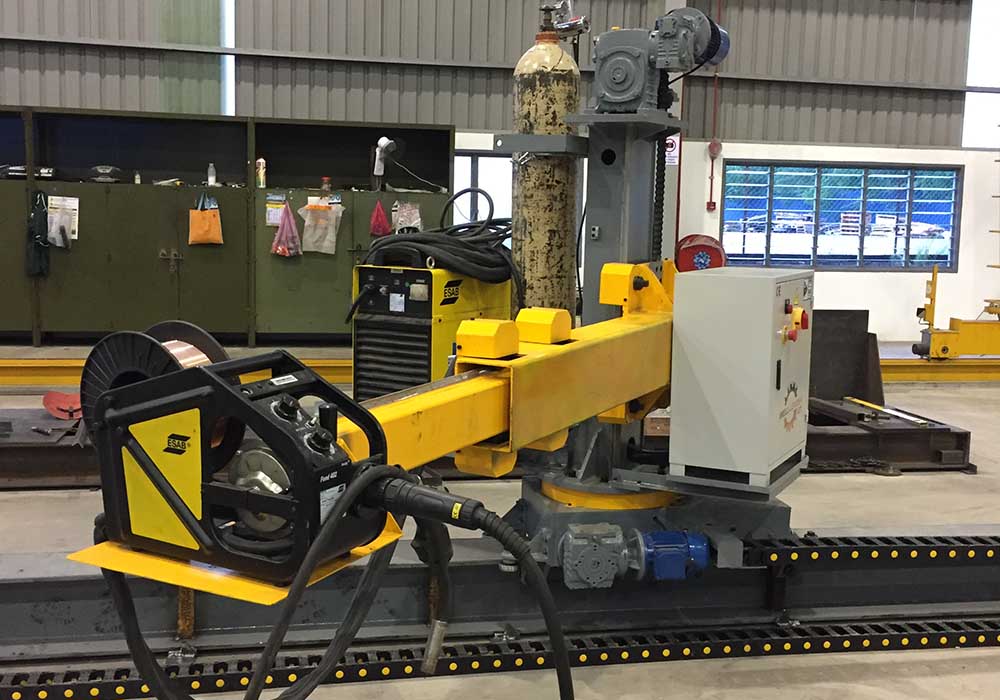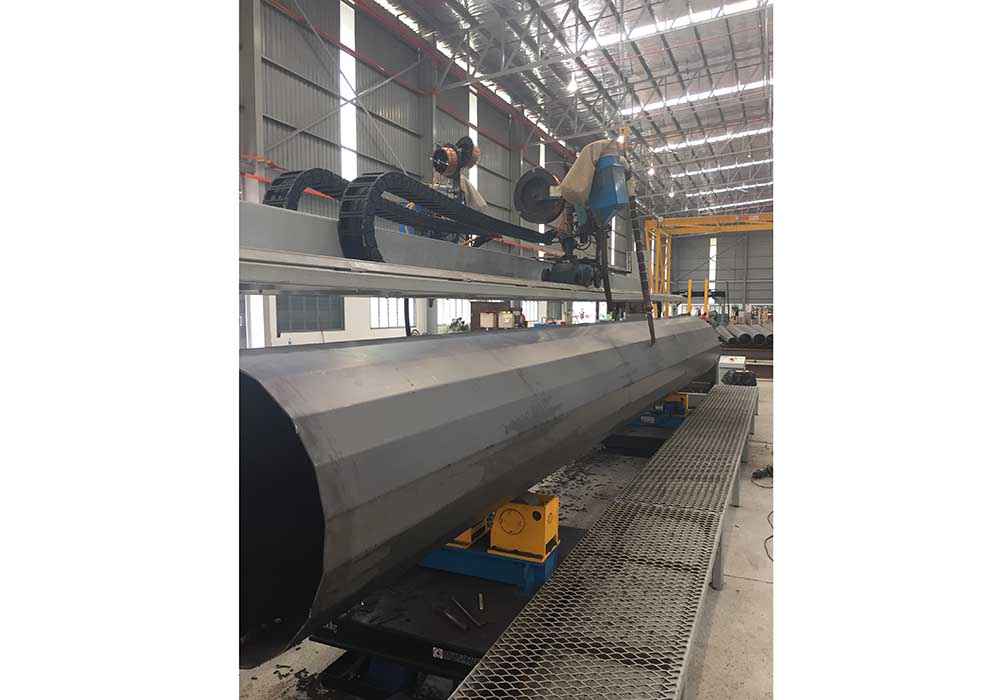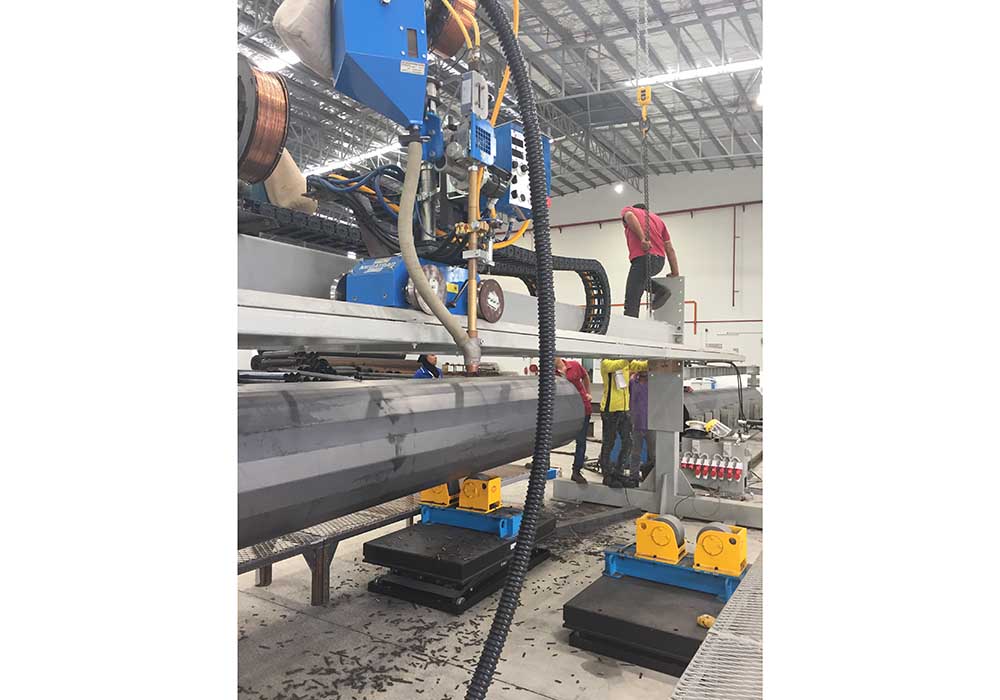 Pole Welding Solution
The pole welding solution includes pole seam welding machine, flange assembly machine, flange automatic welding machine, etc.
Technical Parameters

How to work
Technical Parameters:
Model: LMH-300

Structure: Fix pole, Gantry walking

Pole size: ɸ60-ɸ1500mm

Gantry walking speed: 300-3000mm/min

Walking motor: 0.37KW*2

Arm up/down motor: 0.12KW

Criss cross slider motor: 40W

Criss cross slider stroke: L/R +/- 50mm, Up/down +/- 25mm

Side cylinder size x stroke: ɸ80mmx150mm x2

Upper cyinder size x stroke: ɸ80mm x100mm x2

Elevator stroke x nos: 200mm x2

Motor: 0.37KW

Technical Parameters:

V channel length: 7100mm
How to work:
1. Welding is carried out on a round-trip by walking from head-to-tail and tail-to-head.
2. The gantry is walking on fine machined rails, through inverter an ideal welding speed from 300mm/min to 3000mm/min is provided.
3. Two cylinders from upper side press on pole. Each of them can go up or come down separately. One cylinder comes down to press the pole when the gantry goes head-to-tail direction. The other cylinder comes down to press when the gantry goes tail-to-head direction. As these two cylinders don't work at the same time, it gives a space for worker to observe the welding status.
4. The criss-cross slider is motorized, the adjustement is controlled by a big knob on the remote box. Welding seam can be aligned in mm by swing the knob slightly. The remote box is furnished with magnetic device, it can attach on any suitable place of the machine body when the gantry goes in different directions.
5. The side cylinders are fixed on the gantry. After doing test welding, their positions will be certained to fulfill 60-300mm range of pole diameter.
6. The support V table can elevate the pole to the right height for the cylinders to touch, through two motorized elevators. As the elevators are controlled separately, the pole can be adjusted to a suitable level for welding.