Plasma Cutting Machine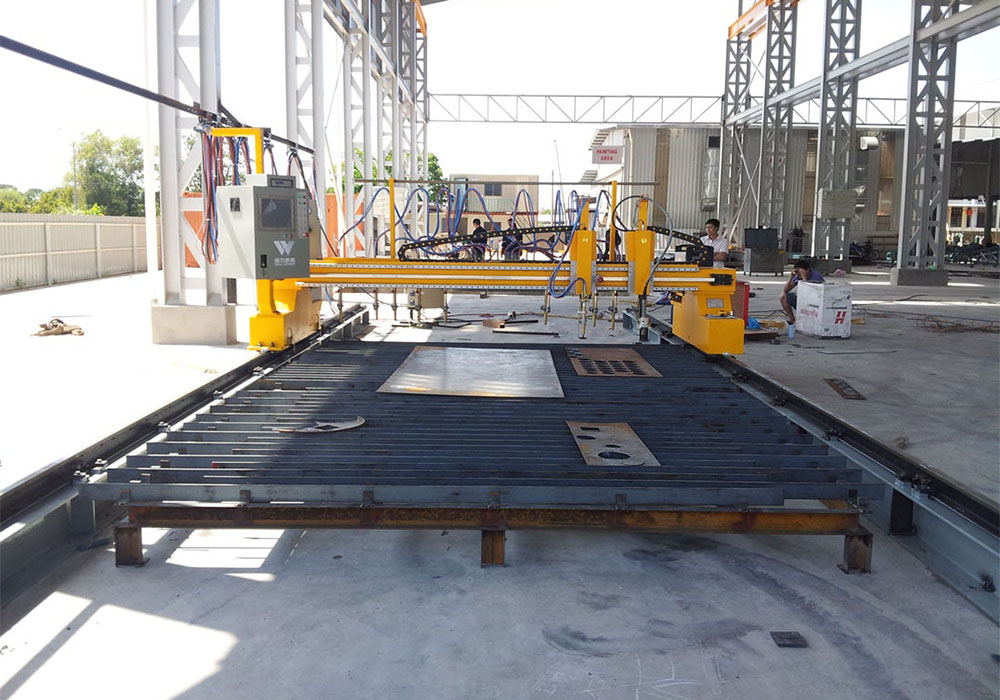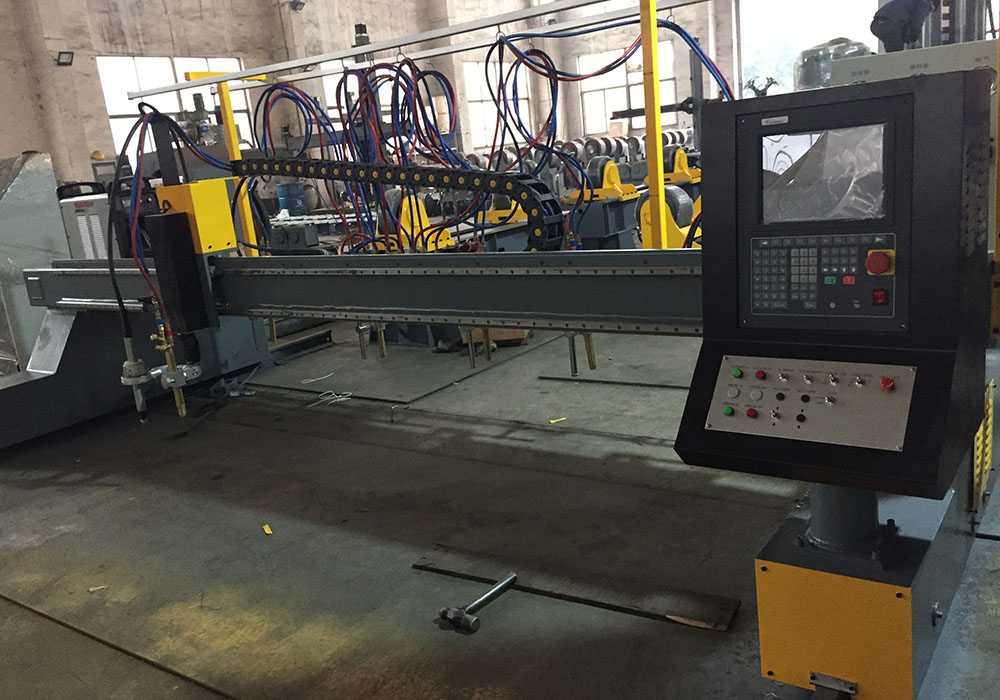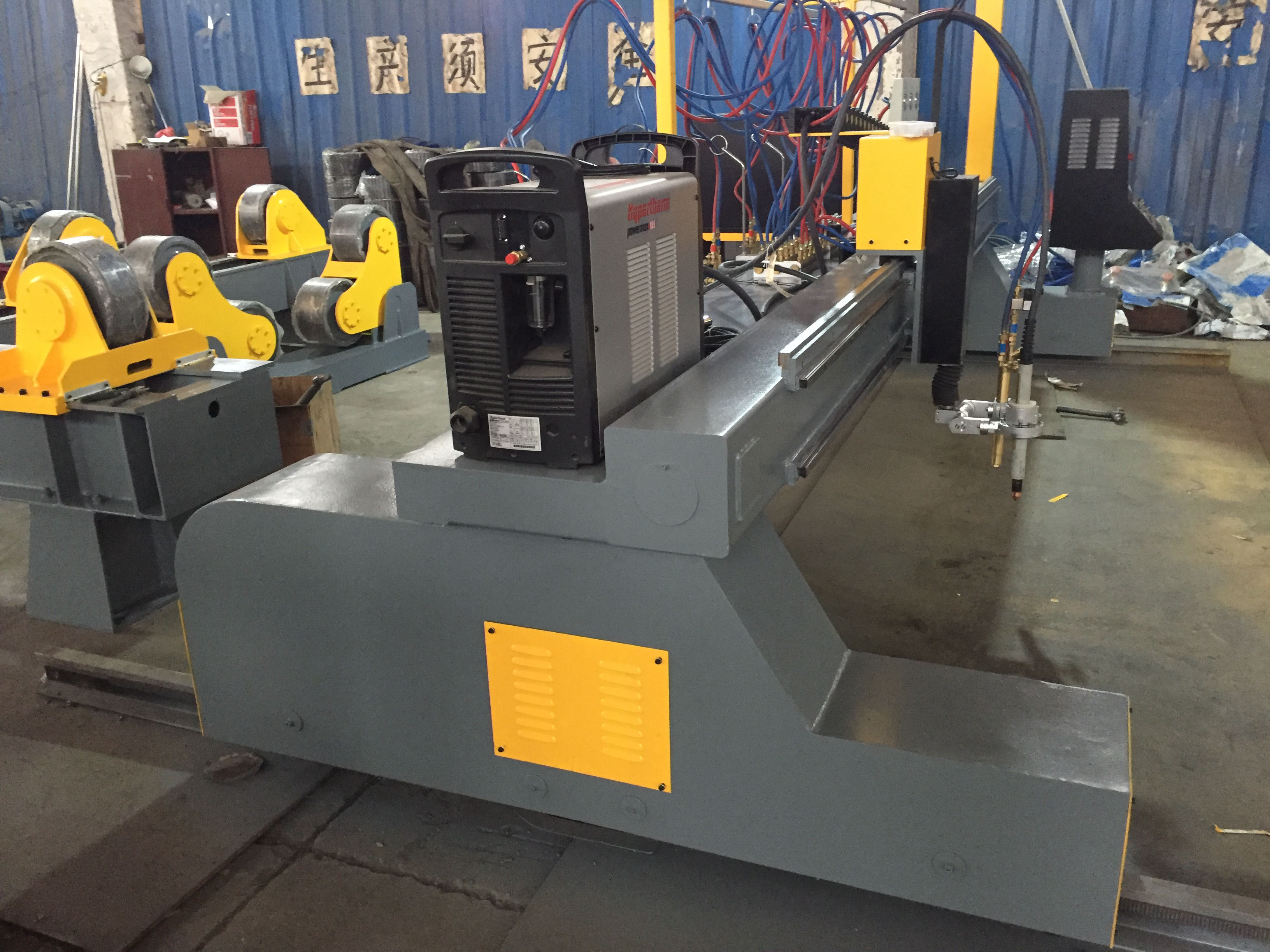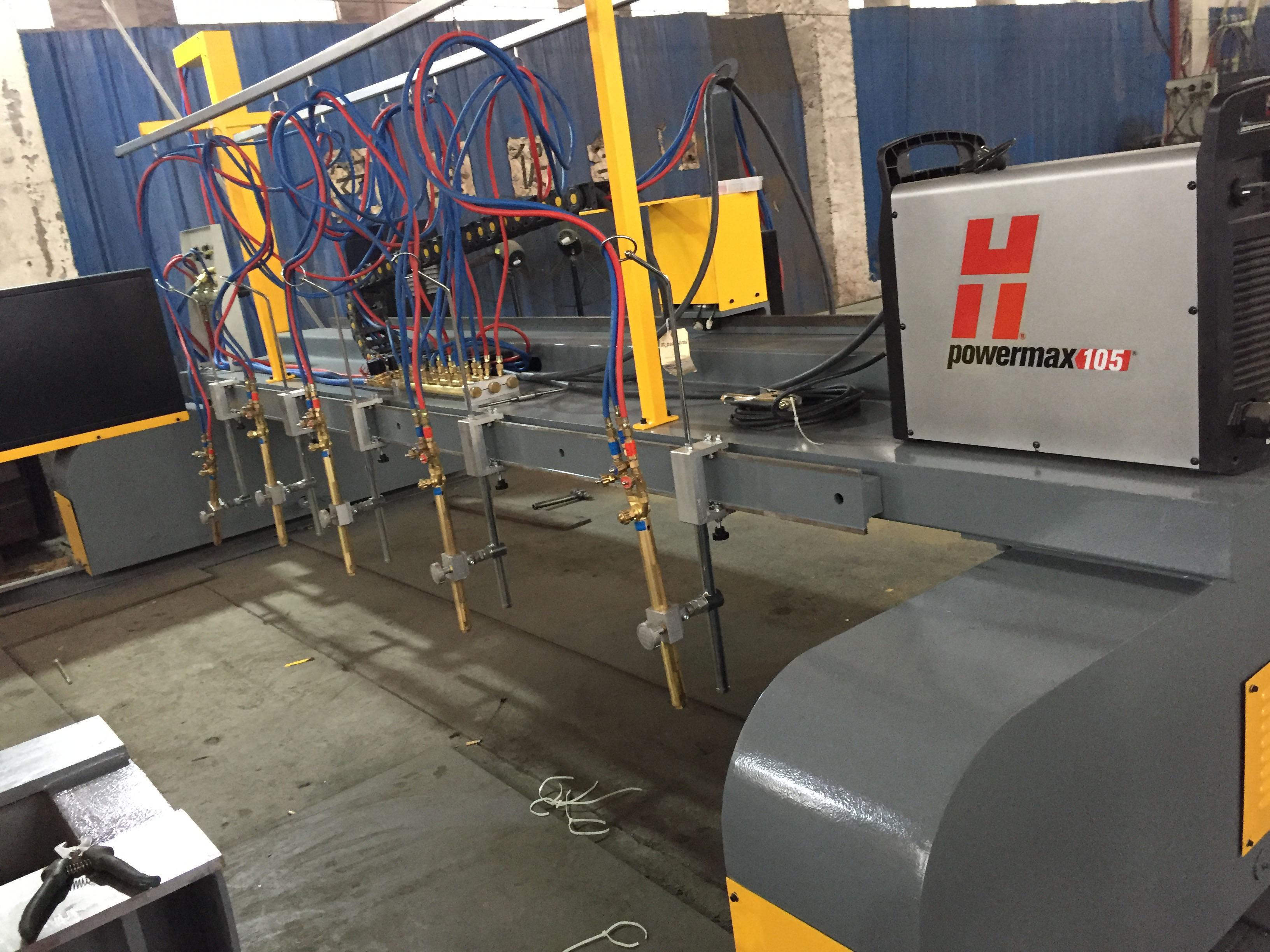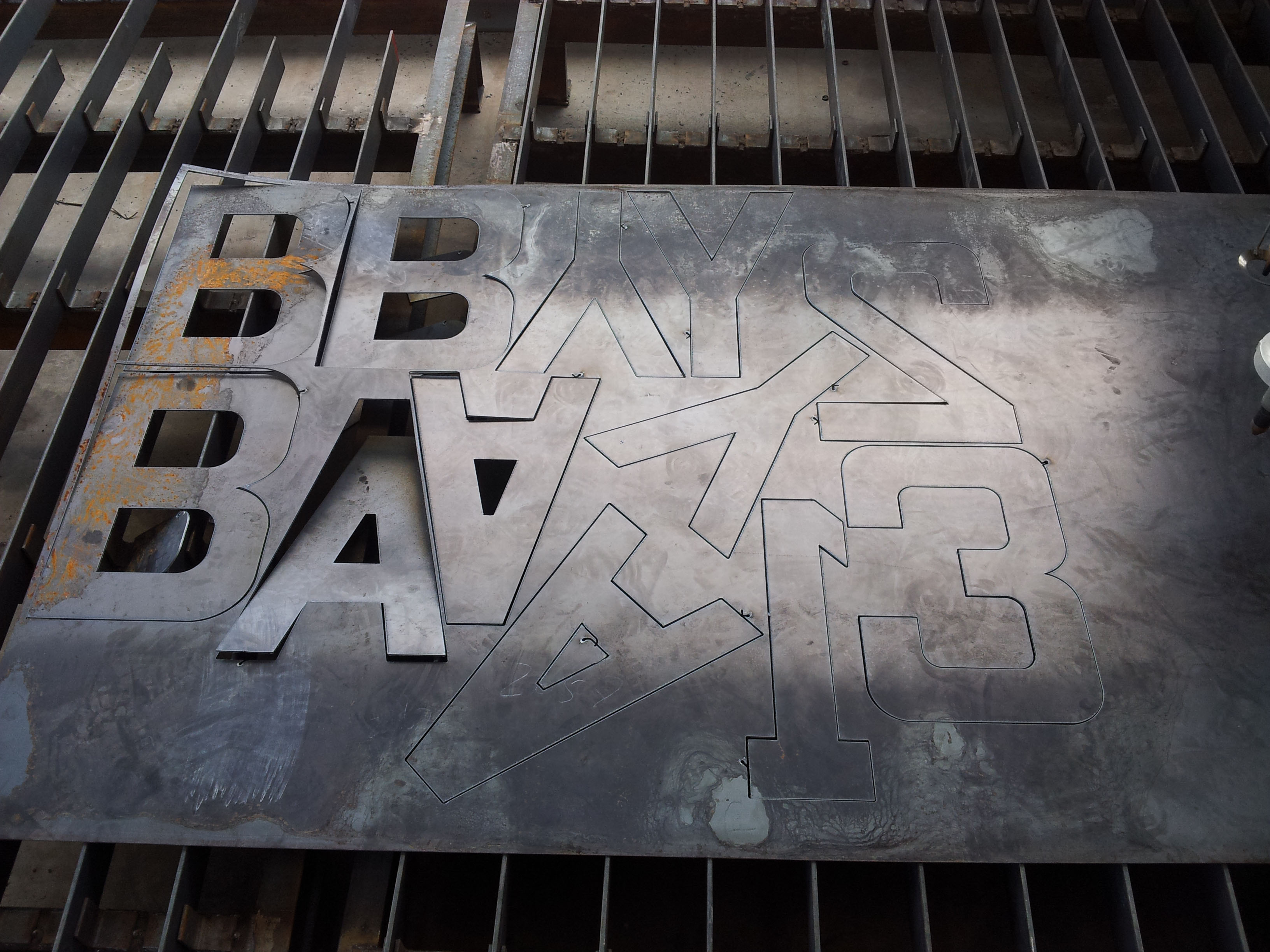 Plasma Cutting Machine
Plasma cutting machine is a precision tools that assist with metalwork. It can cut most types of metal in most thicknesses and are useful across a variety of applications. Different voltages fit different cutting needs - for example, fewer volts are needed to cut sheet metal than to cut a 1/4-inch plate - and their portability is a primary benefit.
Plasma cutting machine send an arc of electric current through a high-speed stream of inert gas, usually compressed air. This electrical arc ionizes the gas molecules, turning a portion into plasma that is hot enough to cut metal.

Click below to watch the working video.
Model: SG-4000
Span: 400mm (Double drivers)
Rail length: 15000mm
Cutting Area: 12500x3200mm (L*W)
Cutting material: Carbon steel
CNC flame cutting torch:1 complete unit with height sensor
Flame cutting thickness: 6-100mm (For each single torch)
Flame cutting material: Carbon steel only
Plasma cutting torch: 1 complete unit with height sensor
Plasma cutting thickness: 25mm Max, quality cutting at 12-15mm
Plasma cutting material: Carbon steel, Stainless steel, Aluminium
Plasma power: 105A
Cutting speed: 100-1000mm/min
Rapid reverse speed: 6000mm/min
General position precision: ≤±0.5mm
Cutting surface roughness: Ra12.5-25
CNC system: China Starfire
Driving system: Japanese Panasonic AC servo motor (double side)
Longitudinal transmission: by gear and rack
Transverse transimission: by linear guide rails
Power supply: machine AC220V, 50Hz, 3kVA; plasma AC400V, 50Hz, 30kVA
Important Components:
-CNC system: Starfire from China
-Linear guide rails for transmission
-Longitudinal driver: Japanese Panasonic servo motor
-Transverse driver: Japanese Panasonic servo motor
-Linear guides for torch elevation:China
- Plasma power: Hypertherm Pmx105
-Auto programming and nesting software:Australia FASTCAM
-Electrical components: Schneider
Supply Range:

- Main body: including beam, end beams, gear box, transmission unit, gear, rack, control box, electrical box, caterpillar.
- CNC system: 1set, China Starfire
- AC servo motor driver: 3sets (2sets for longitudinal driving & 1set for transverse driving) Panasonic Japan
- Longitudinal rails: precisely machined 24Kg grade,15000mmx 2pcs, and accessories.
- Longitudinal rack: module 2.
- CNC flame torch : 1 complete units with auto ignition & Height sensor
- Plasma torch: 1 complete unit with height sensor.
- Plasma power: Hypertherm Pmx105
- Electrical control system: 1 set, components in "Schneider"
- Consumables with machine: pushbuttons 2pcs, knob switch 3pcs, medium relay 2pcs, limited switch 2pcs.
- Australia FASTCAM programming and nesting software:1set.
| | | | | |
| --- | --- | --- | --- | --- |
| Model | SG-3000 | SG-4000 | SG-5000 | SG-6000 |
| Rail span | 3000mm | 4000mm | 5000mm | 6000mm |
| Cutting width | 2200mm | 3200mm | 4200mm | 5200mm |
| Rail length | 15000mm | 15000mm | 15000mm | 15000mm |
| Cutting length | 12500mm | 12500mm | 12500mm | 12500mm |
| CNC plasma torch | Optional | Optional | Optional | Optional |
| Driving | single | single | Double | Double |
| Cutting speed | 50-1000mm/min | 50-1000mm/min | 50-1000mm/min | 50-1000mm/min |
| Rapid return speed | 3000mm/min | 3000mm/min | 3000mm/min | 3000mm/min |
| Flame cutting thickness | 6-100/200mm | 6-100/200mm | 6-100/200mm | 6-100/200mm |
| CNC flame torch | 2 groups | 2 groups | 2 groups | 2 groups |
| Flame strip torch | 9 groups | 9 groups | 9 groups | 9 groups |