Conventional Tank Rotator GK-200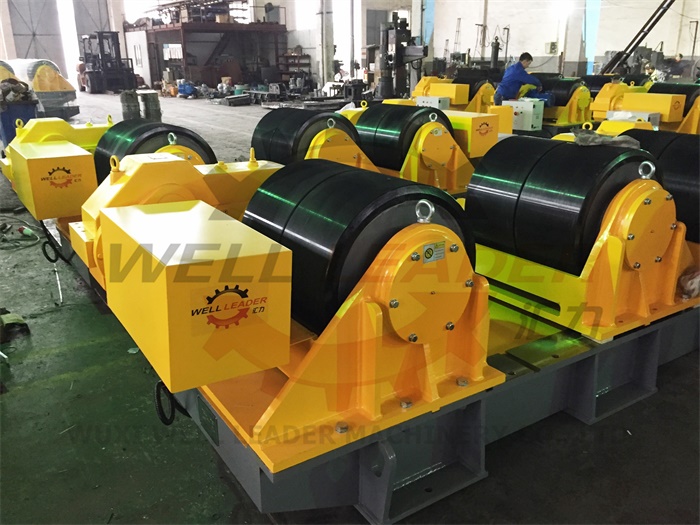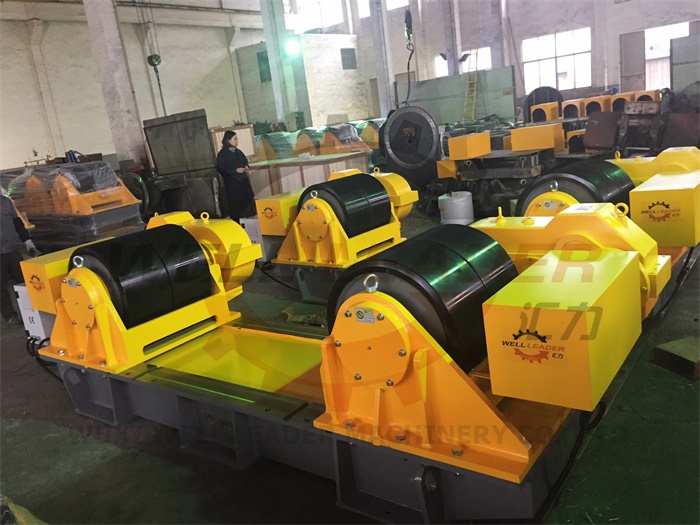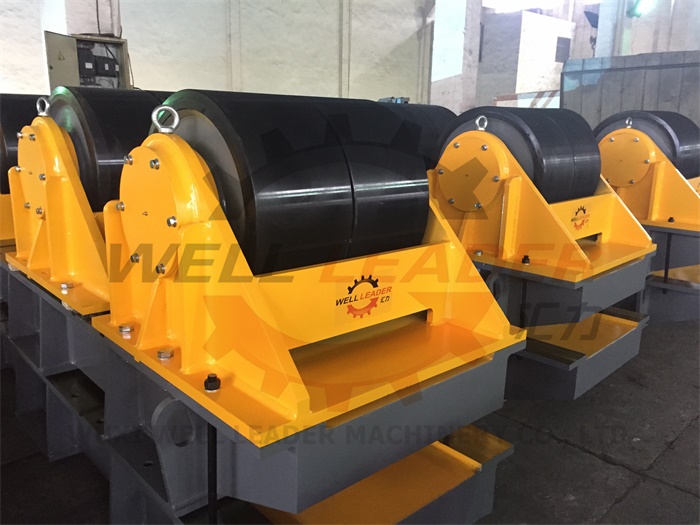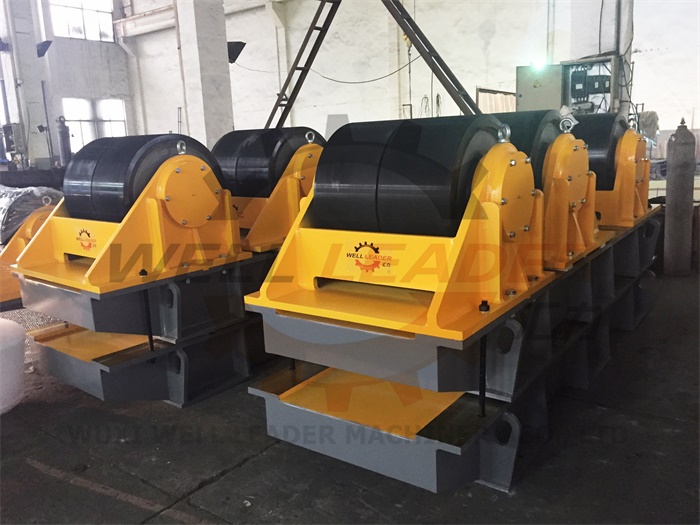 Conventional Tank Rotator GK-200
GK adjustable welding rotator is designed for handling and automatic welding circular metal containers, and it mainly used in oil industry, press vessel field, wind tower production line, pipe line production field, and many other round workpiece fields.
It is mainly composed of a drive rotator, an idle rotator, an electric control box, and a remote control box. The drive rotator owns two sets of movable rolling wheels and bases. The base has a box structure to protect the inside screw components, and the base can also connect the two movable drive rotators. By rotating the screw, the two sets of rolling wheels can simultaneously move forward or backward. This adjustable welding rotator is connected with an electric motor through a worm gear speed reducer. The drive rotator can offer stable rotating power to ensure the operation efficiency, and the electric control box is fitted with a digital display screen, on which accurate rotating speed of the rotator is shown.
Features:
Brand motor "Invertek"/ABB/SIEMENS & gearbox
Brand heavy duty bearings
High quality PU material
Schneider Inverter control speed variation
Schneider electrical components
Remote box with long protective cables
Wireless remote control for extreme long workpiece
Quick connector for easy starting machine
Control cabinet is water proof, dust proof & CE approved
Technical Parameters:
-Turning Capacity: 200T
-Roller Diameter : Φ650mm
-Roller width: 650 mm
-Roller surface speed range: 100-1000mm / min
-Loaded Vessel/Tank diameter range: Φ1000-5000mm
-Drive unit: AC frequency conversion motor and qualified gearbox.
-Wheel center adjustment (for both drive unit and Idler unit): Self centering Type by adjusting bolts.
-Remote control: Remote control pendent with 6mtrs long Cable
-Rotational speeds (variable speed AC drive): Step-less variable speeds are to be adjusted from min 100mm/min to max 1000mm/min by a potentiometer on the remote control through inverter.
-Rollers: PU
-Motor power: 2X5.5kW
-Power supply: 380V/400V/415V/440V, 50/60Hz, 3-Phase.
Supply Range (For standard model):
-01 unit power with motors & gearbox, control cabinet mounted.
-01 unit powerless idler
-01 Pendant box with 6mtrs cable
-01 Wireless remote box
-Relative documents inc. mechanical drawings, electrical diagram, operation manual, etc.
-Spares: Pushbuttons, potentiometer, relays.
Sold to: Germany, Denmark, Romania, New Zealand, Australia, Singapore, Indonesia, Malaysia, Argentina, Brazil, Chile, Turkey, Syria, Israel, Saudi Arabia, Vietnam, India, etc.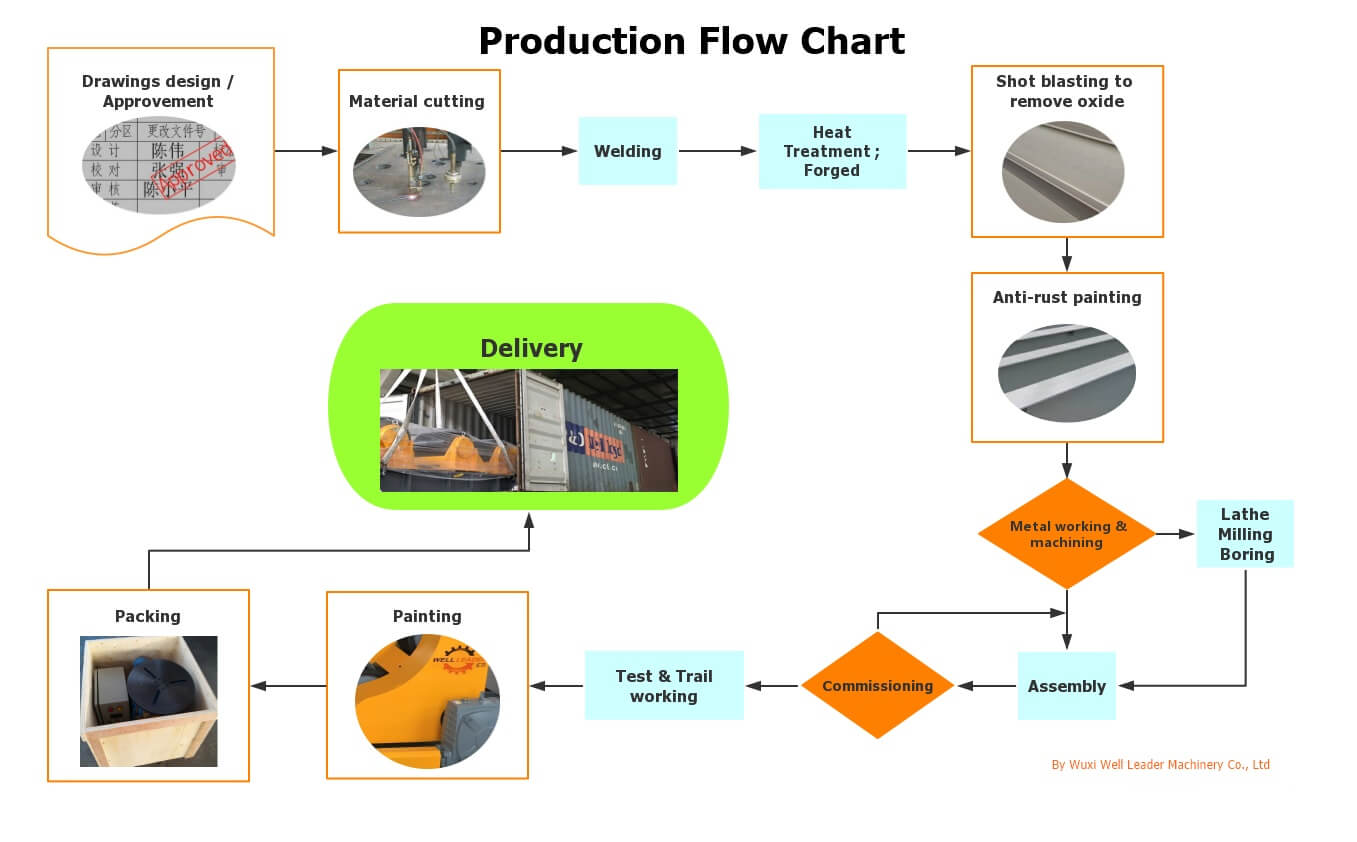 You may interest in other products: